Preferences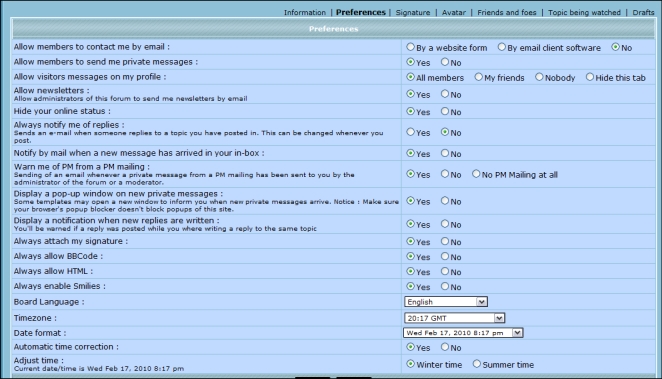 Allow members to contact me by email :
It is probably best to leave as the default of no & use the PM system.
Allow members to send me private messages :
The default is yes and most people leave it that way, but you do have the option to stop all other members sending you a PM.
Allow visitors messages on my profile :
A bit like the wall of Facebook, for people to leave you a message of congratulations or just to say hello, but you don't receive notification if someone has left you a message. You can change the permissions to allow all members, just those added as your friends, or no one to write on it. All members looking in your profile will be able to read the messages left there.
Allow newsletters :
It is probably unlikely you will get one from us, it certainly wouldn't be regular event, so it probably doesn't matter whether you have this set to yes or no.
Hide your online status :
This makes you invisible to to all other members, they will only know you are on line if you post something. Administrators & moderators can still see that you are on line.
Always notify me of replies :
The default when you join unfortunately is yes. This means that every time someone posts in a topic you have also posted in, you will get notified. Most people will want to set to this no. If you wish to subscribe to just one or two topics that interest you, you can do that in the actual thread.
Notify by mail when a new message has arrived in your in-box :
Yes is the default & you will receive an e-mail notification when you get a PM from another member.
Warn me of PM from a PM mailing :
You can choose just to be notified by PMs by moderators & administrators.
Display a pop-up window on new private messages :
An additional way of being notified of a PM. Some adware/ pop up blockers will stop this working anyway if you don't give it permissions for this site.
Display a notification when new replies are written :
This is a good one to have set to yes, especially if you do quizzes. It will show you if there has been another reply written while you were composing yours, what that reply is, and then give you the option to modify or not post your reply.
Always attach my signature :
The default is no. If you wish to have a signature in your profile, you must change this to yes for your signature to show.
Most of the below you will not need.
I would leave on the defaults, but I have explained them anyway
Always allow BBCode :/ Always allow HTML : The only reason for disabling these is for security reasons, it's highly unlikely there would be a problem on this forum. Not many members use HTML code but we all use the BB Code to post links & smilies, click no to this & you will not be able to that.
Always enable Smilies : We have no evidence that this button works. If you don't want smilies, then I suppose the answer is don't click on them
Board Language : This will change the board into another language for you, but it will not change the actual posts on the forum, they will still show in English as posted.
Timezone : If you are in another part of the world you might want to change the forum time to match your own.
Date format : To change the style of the date.
Automatic time correction : If you find out let us know. ;)
Adjust time : Winter/summer time, the forum seems to do this automatically.